The best form of therapy w/ Bandit, Paisley, Smokey, & Whoopi
Left top: Bandit
Left bottom: Paisley
Right top: Smokey
Right bottom: Whoopi
These are my pugs,
I love them best!
This is their home,
You are a guest!
If you should find
My pugs a peeve,
Then by all means,
Feel free to leave!
(try not to let the door hit you in the arse on the way out!)
~ Bandit's 7th Birthday 01.01.12 - the King of my heart ~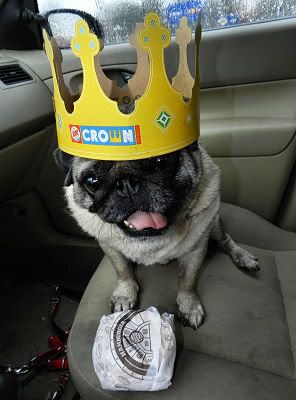 Motto: "Handsome is as handsome does."
Birthday: 01.01.05
Gotcha Day: 02.17.05
Rainbow Bridge: 11.13.12
Nicknames: Mommy's Boy, Gentleman Bandit, Special B
Accomplishments:
AKC CGC - 3/24/07
TDI Therapy Dog - 4/26/08, retired later than year because of breathing problems.
Personality: Bandit has a very calm loving nature most of the time. But once started, a real party pug!
~ Paisley's 7th Birthday 10.12.12 ~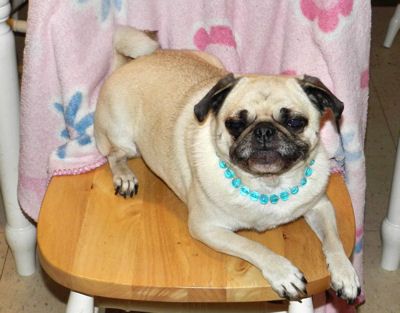 Motto: "Roo..roo..roo"
Birthday: 10.12.05
Gotcha Day: 12.14.05
Nicknames: Paisley Roo Roo, Crazy Paze, Sweat Pea
Personality: Paisley is very much my wild child. Just always so happy to be a pug she can't stop moving or sassing with her roo roos!
~ Smokey's 5th Birthday 10.26.12 ~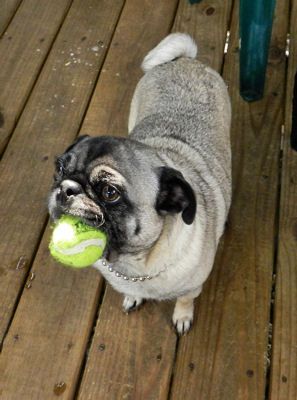 Motto: "Wanna play ball?"
Birthday: 10.26.07
Gotcha Day: 12.29.07
Nicknames: Sgt. Smokey Peanut
Personality: Smokey is my little sweetheart. A real cuddle bug when not being obsessed with playing ball. 2011 - we've had to limit the ball playing recently because of his bouts of syncope. But I did let him play with it a little bit because of his birthday today.
~ Whoopi's 4th Birthday 12.05.12 ~

Motto: "Its good to be me!"
Birthday: 12.05.08
Rescue Gotcha Day: 09.15.10
Nicknames: Whoopi Willow, Whoopi Pie
Personality: One minute Whoopi is a cuddle bug, the next minute she is tearing the stuffing out of her toys, a real mover and groover, loves to play and taunt her brothers and sister.